Australia Post accessibility
Australia Post accessibility
Australia Post Accessibility – an introduction
I use a wheelchair for mobility purposes and this blog is about Australia Post accessibility.
I hired a post office box at Prospect. The post office is in the North Park shopping centre and surrounded by shops. It takes me only four minutes to get there in my powered chair.
Australia Postboxes at Prospect
The PO Box area wasn't designed for people in wheelchairs, as the door is heavy, at an awkward angle, and the letterboxes are in a small area. With great upper body strength, I could barely open the door, grab my mail and get out. I purchased a new powered chair, and no longer could I access my PO box. I pushed my manual chair to the PO and wasn't able to open the door. There is an Australia Post accessibility problem!
I chatted to a staff member at Prospect, and they mentioned the mail couldn't be redirected to my home. This didn't seem right, so I raised a complaint with Australia Post. After a good chat with the area manager, I would be receiving a free redirection for a few months, to allow Australia Post to resolve the accessibility issue. I visited Prospect and they filled in a form to commence the redirection.
So who is responsible for Australia Post accessibility?
I asked Australia post multiple times, about the person who ensures the branches are accessible for all. I didn't get a name, therefore, I assume no one performs this role. My assumption is accurate, or this person is poor at performing their role.
My new home
I planned to allow deliveries to occur with ease, with an intercom, that I can answer from anywhere in the world. The garage door can be opened remotely to allow deliveries to be placed securely in the home. This works well for parcels that don't need a signature. Or it should work well!
The Australia Post delivery driver that wouldn't communicate
The doorbell rang, and I start chatting to an Australia Post delivery worker. I mentioned 'Hello. I can't get to the door'. It was a one-way conversation, as the driver disappeared, and headed towards the front door. He knocked on the door and kept knocking, as I attempted to shout at him, via the intercom.
The driver left a note 'your parcel could not be delivered, as it required a signature'. Or something like this. There was another person at home, and they could have signed, but the driver didn't listen. Maybe Australia Post put drivers under time pressure? As he passed the intercome, I attempted to talk to him and once again, he refused to communicate.
One of the items was furniture and given I knew it would be delivered, I had arranged a friend to come over and install it. It didn't happen.
Collinswood instead of Prospect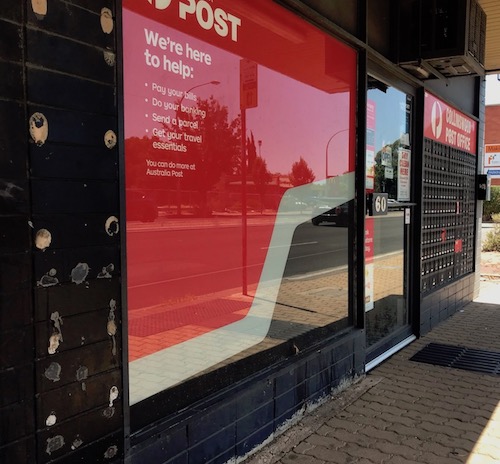 The driver decided to take the parcel to Collinswood PO, rather than Prospect. As I use a wheelchair to get around, the journey would take twice as long, and I had to cross North East Road. Collinswood PO is also located in the middle of nowhere. There is nothing else I can achieve at this location, as compared to the Prospect PO.
I took off to claim my parcels, the suburbs between my home and the PO, have terrible footpaths. The ride was bumpy, and it increased my back pain. As the day was warm, I felt hot as I arrived at the PO.
After struggling to open the door, the inside of the PO felt warmer than the outside temperature. An SCI (Spinal Cord Injury) makes it difficult for me to regulate my temperature. I asked a staff member if they could make it cooler, and they said 'no'.
We've started 2020, and there are still a few businesses who won't supply air conditioning for their customers. As the AC is pictured in the photo, either they wouldn't turn it on, or it was broken. They didn't explain.
John Duthie delivers
One parcel was 5kg, and I placed it on my lap. The other items were about 2kg and they were placed into a bag. I held the box and the bag with my left hand and steered with my right hand. The ride home took longer, as I had to take it slowly, and regularly adjust the parcels. To avoid the bumpy footpaths, I took the road most of the way, riding into the path of the vehicles in the bike lane.
It was illegal and dangerous, but Wheelchair John delivers.
Posting on Twitter
I tweeted, and Australia Post apologised and mentioned they contacted the delivery centre. They asked that I contact them again if the problem happened again.
Not good enough I replied, as I wanted their delivery drivers to communicate each time, and never take my parcels to the Collinswood PO. They wouldn't commit to this.
I believe this is poor customer service. Given Australia Post won't deliver, I plan on taking the problem up with other organisations.
Read more about this site here. And another story about Australia Post here.
Please follow and like us: