Relationship Issues are the next problem.
(This blog is part of a series of seven blogs. Please click here to commence reading at the first blog.) This blog is not covering the details relating to the separation and divorce from my wife. However, the relationship issues are a direct result of the accident at Cedar College  , although everyone is personally responsible for the decisions they make. I often quote 'Bad things happen. What matters is how you respond'. In the 13 months between the accident and the onset of chronic pain, I attribute my survival and well-being to many factors. During this time I believe the love and care provided by my wife was one of the main factors. After our separation, I felt lost and depressed and didn't see a point to living.
The timing of an unexpected visit to my house by my wife stopped me from swallowing pain relief capsules, and I was admitted to the mental ward of the hospital. After a night of sleep, I heard the words 'you do not belong here'. I asked the psychiatrist to go home but didn't mention I was hearing voices, as I thought it would keep me in longer. Within a few hours, I was discharged, and life turned around quickly, including a new partner, Madie, and better relationships with my children and friends. I got out of the home and did things. I believe God spoke to me in the hospital, as well as sending the visitor to intervene.
My experiences relating to the separation, took me back to 1978, at a time I commenced my secondary school education at Marden High, in Marden, South Australia. I was bullied, and the two experiences are shared on another blog. In the months following my attempt to swallow the pain relief capsules, I received advice from many mental health specialists. They advised standing up for myself. It helped me to stand up to bullies, commence my WheelchairJohn blog, and many other things.
Hindsight is always great. I now understood that when the school asked my wife if I required anything, the questions were not passed onto me. Her focus was outside the family. If only the communication came directly to me.
Public Liability Lawsuit with Cedar College.
Cedar College had adequate public liability insurance, and I was thankful for this, as my income was reduced and expenses increased as a result of the accident. Given they admitted guilt in the Industrial Relations Court, and part of the judgement was failing 'to act upon the recommendations of the arborist', I expected the school to take full responsibility for the accident during the public liability lawsuit. I wasn't expecting the school to say the words 'It was our fault', as insurance companies do not want the policyholder to admit guilt. However, I expected the school's behaviours to show they were responsible for the tree falling on me.
Instead, Cedar College filed a third party notice which named the two companies that supplied the arborist reports. A third party notice shares the responsibility for the damages with other parties. And the school listed around 15 reasons! This action by Cedar college was utterly the opposite of what they teach. They encourage students to take responsibility for their actions, rather than sharing the blame around. My children received multiple detentions for failing to take responsibility for doing the right thing. For any students that are currently studying at the school, feel free to give 15 reasons for failing to do your homework, and refer to this blog!
The motivation of sharing the blame appeared to be related to finances, as the school wanted the two arborists to help share the financial burden of my lawsuit. I felt bad for the two tree companies and was compelled to contact them and tell them I didn't hold them responsible for the accident. My lawyers mentioned that it didn't matter to us where the funds came from, as long as we achieved our goal, so I didn't make contact.
The Public Liability Lawsuit was settled out of court with the two arborists helping to contribute to the settlement amount.
The ABC reports about the lawsuit.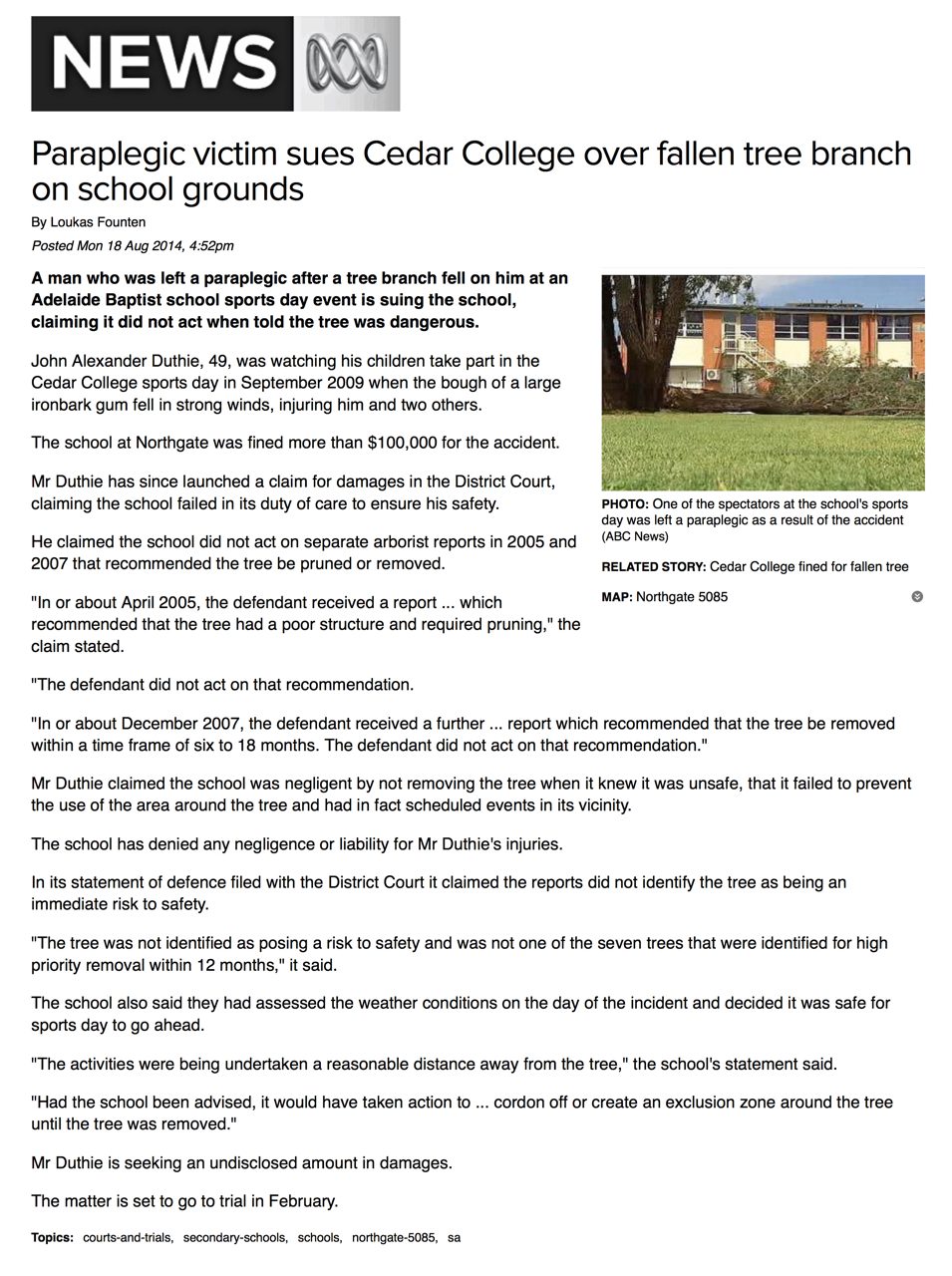 Between all of this and graduation.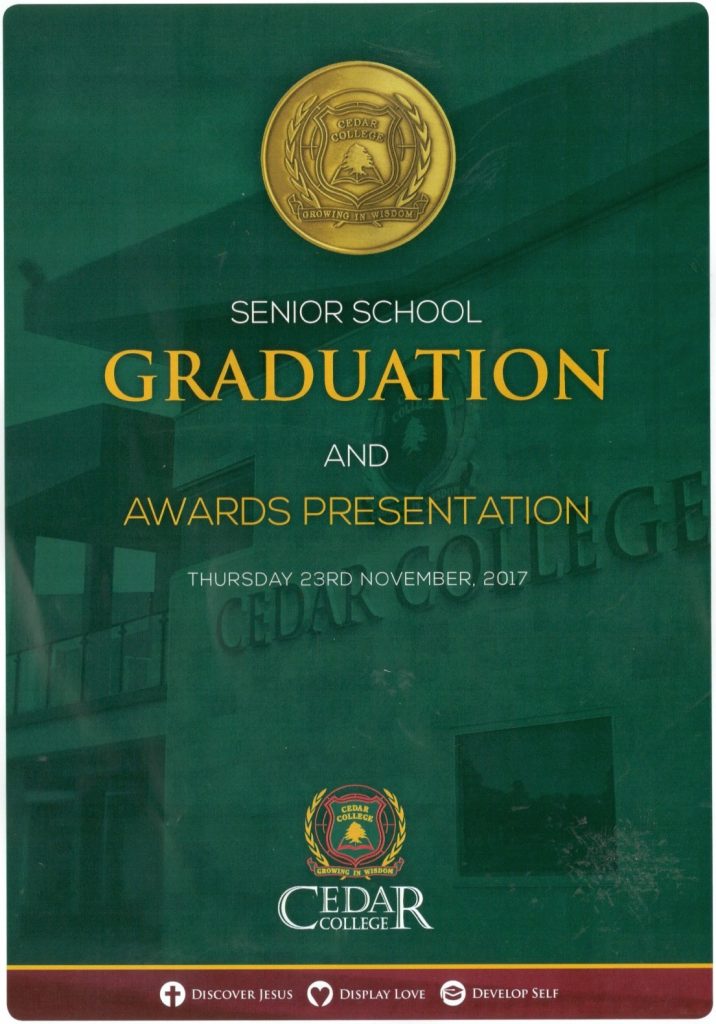 While I was still in hospital I felt justified to remove my children from Cedar College, as the school had done the wrong thing towards me. Maybe it would have made me feel better, but taking that action would have made it worse for Jasmine and Ben. They were receiving a good education and they had great relationships with their friends, so I asked them. They wanted to stay, and apart from a few angry letters, I attempted to have a good relationship with all staff at the school. Ben and the school gave permission for me to deliver a five-minute speech at Ben's graduation, and is included below.
Ben is graduating in about 90 minutes, Jasmine two years ago and I did it 35 years ago.  Why do my children say I am old? Thank you to the school, Peter and Ben for the permission to talk. Tonight is a celebration, and very positive, but I need to share some things which are not good, then change to a more positive mood, and provide a statement to end my talk.
On September 11, 2009, at Cedar College, an ironbark tree fell on me, narrowly missing Ben and my father, Alexander.  It changed our lives forever. My spine was severed causing paralysis from the chest down.  A broken collarbone, cracked ribs and sternum, broken leg and ankle, and a neck fracture and a bruised heart.  Wendy, a friend and church minister, is the only person I recall from the first few weeks.
I asked God 'where are you?'.  Preventing a tree from falling should be easy since you created the world in six days. While in rehab, I woke up in agony and unfortunately, the pain remains. In January 2011 I returned home after 16 months in the hospital. In 2012 my wife and I separated, and following this, I experienced mental health issues, including an attempt to hurt myself.  An unexpected visitor stopped this and I spent time in psychiatric health care and heard a voice say 'You do not belong here'.
Life improved.  A relationship commenced with Madie, and I renewed my relationship with God at Rise Church. I worked on my physical health and regularly lift weights, and my swimming record is 40 laps.  Maintaining good mental health is also a priority. I share my life with a disability in a blog called 'WheelchairJohn.com'.  And have a book being published later in 2018 whereby 30 people are sharing their experiences with a disability.
I perform advocacy for disabled people, and I am a candidate in the Torrens electorate for the 2018 SA elections, representing Dignity Party.  Kelly Vincent is helping to make life better for disadvantaged South Australians.
I cannot blame God for what happened to me. God placed the right people in the right place many times, those at the accident, Wendy, the unexpected visitor, my parents, Madie, my children and friends. I think being able to swim 40 laps, and surviving the accident, and living with my children is also a miracle.
Many people on stage have and will be congratulating the year 12 students.  I will too, and congratulations on your efforts, however, I want to thank the parents, the caregivers, and everyone else who played a role in supporting the students.  And students, please thank them, and reward them by keeping your bedroom tidy.
'Bad things can happen in life.  You cannot personally control all events and people that may adversely affect you.  How you respond is the key'.
Click here to continue reading