Tell me about sleeping with paraplegia
I am glad you asked the question, and the short answer is on my back, and the long answer is below. Altogether there are 19 paraplegia sleeping tips.
As with all aspects of my life now, there is much planning to ensure I can live as independently as possible. My bedroom is ugly! However, the goal is to ensure my needs as a person with a disability are achieved when I am in my room, with minimal assistance from others. Due to chronic pain which increases during the day, I spend much time in bed.
Paraplegia Sleeping Tips #1 – HELP from CARERS.
Each evening I get help from people with tasks including preparation for the night, breakfast for the next day and laundry. My chronic pain increases during each day and the assistance is invaluable. Mounted on the wall, just outside my bedroom, are items for infection control (alcohol hand wash, gloves and aprons) and communication(a diary and spare care plan). There are times when I am not yet home when the carers arrive, and I suggest what they can do until I arrive. The care plan is three pages and includes an introduction, how to enter and exit the house, daily tasks, weekly tasks and things to avoid.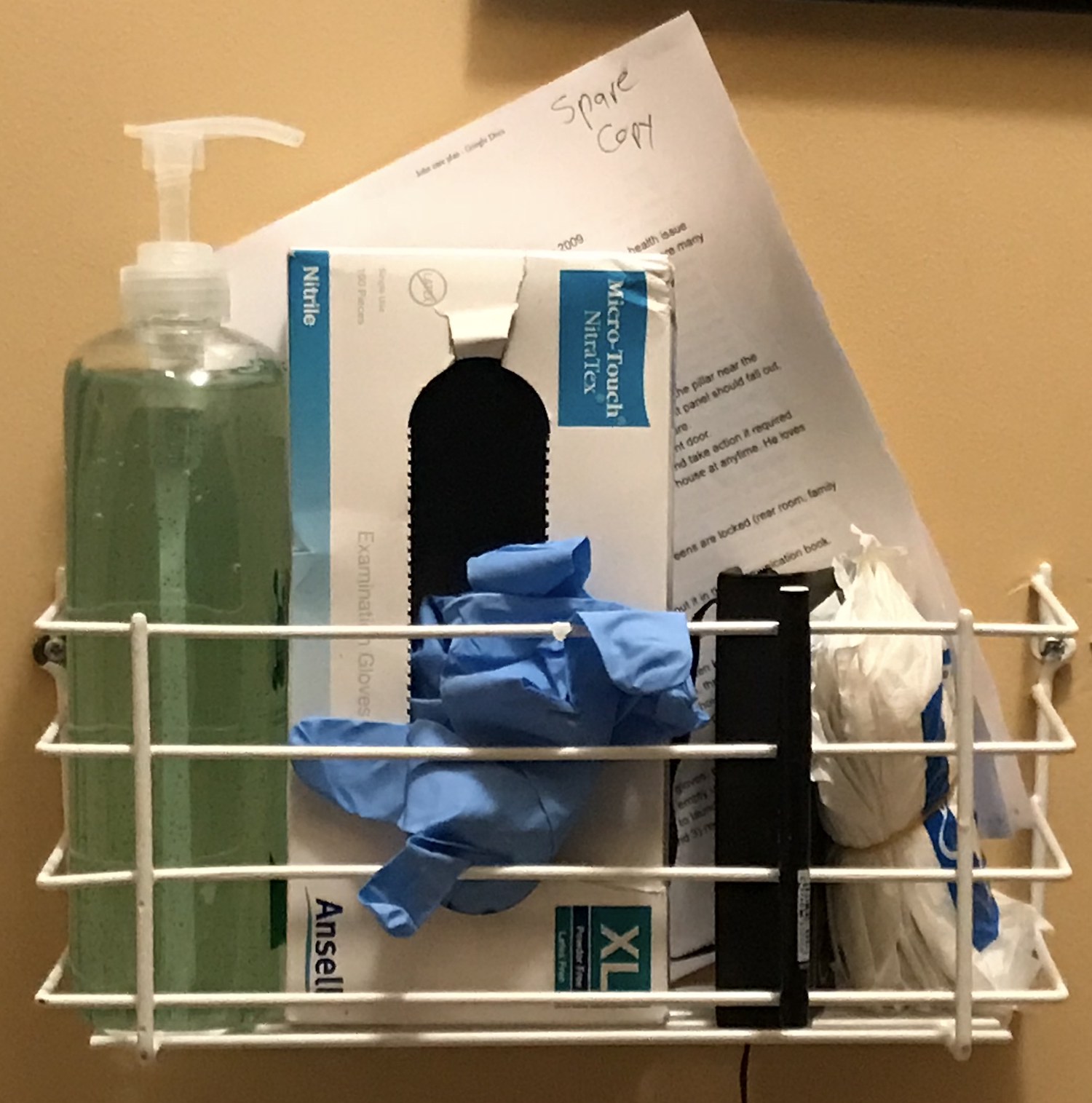 Paraplegia Sleeping Tips #2 – THE BED.
It all starts with the bed, a Hill-Rom Medicraft 500 single bed, which allows me to adjust the height, as well as the back and the foot areas as well. The height adjustment helps with transfers to other mobile devices such as wheelchairs and the shower chair. I seldom lift my legs, however, sleeping with elevated legs does have benefits including back pain reduction and less insomnia.
Being able to sit up in bed is essential, and the backrest function allows me to eat, read, watch movies, play computer games and many other activities. The mattress is an NP100 pressure care model which helps prevent the occurrence of pressure sores, and I sleep on a medical sheepskin. It helps reduce pressure and friction on my skin and reduces moisture. The linen is washed once a week, and the sheepskin is shaken, sprayed with Glen20 and brushed on a daily basis.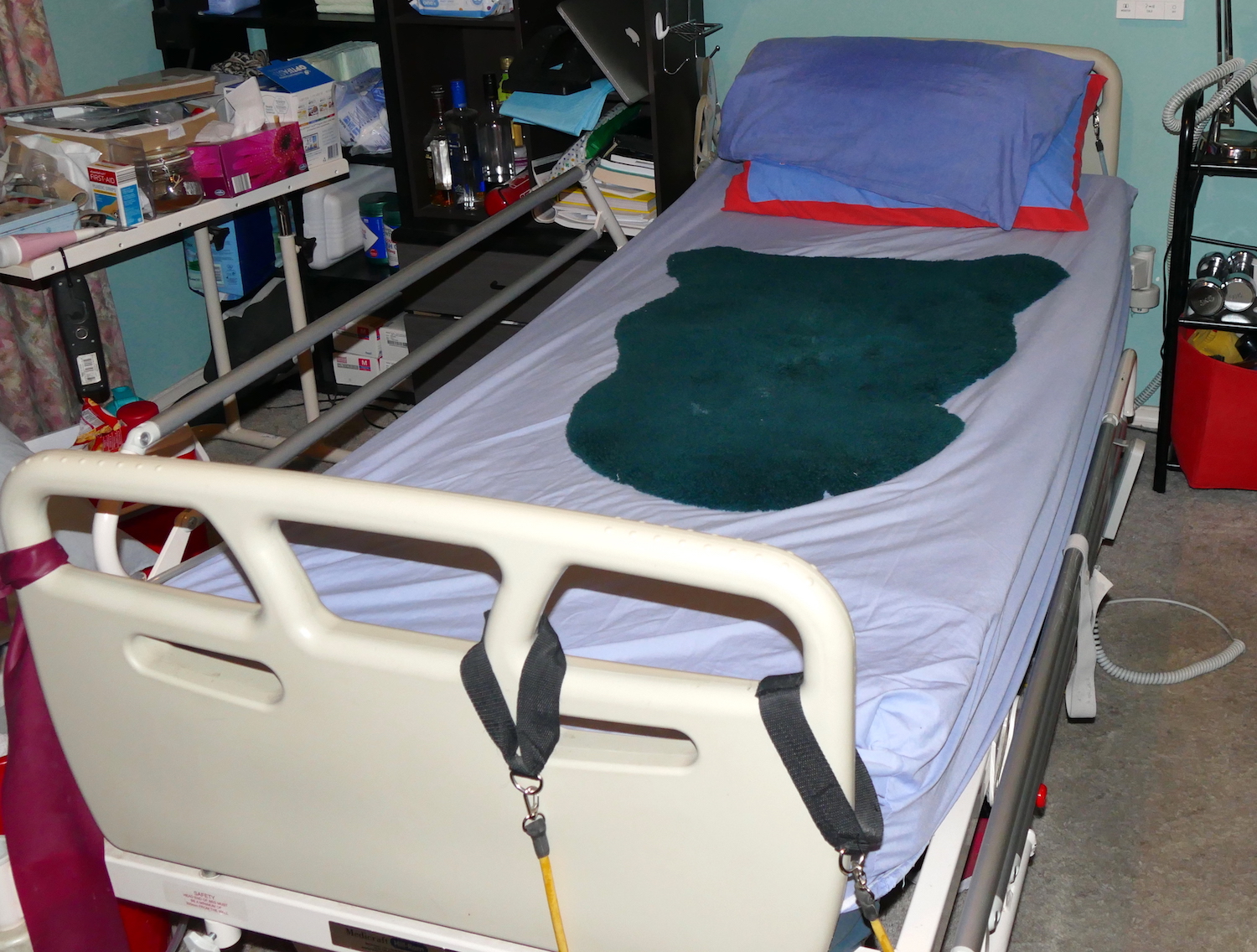 Paraplegia Sleeping Tips #3 – ITEMS I NEED DURING THE NIGHT.
I've had my disability almost nine years, and only once during the night, I've moved out of bed, so items need to be within reach. How often the items are required determines where they are located. I make use of two overbed tables, two bookcases, a set of drawers and an esky.
Paraplegia Sleeping Tips #4 – OVERBED TABLES.
They contain items I need on a nightly basis, with one table directly in front of me (over the bed) and the other table to my right. Items in front of me included filtered water; remote controls (entertainment, lighting and temperature); cup and cutlery; tomorrow's breakfast (frozen berries); bananas; a container of pain relief medications (over the counter meds only) and a container with multiple items.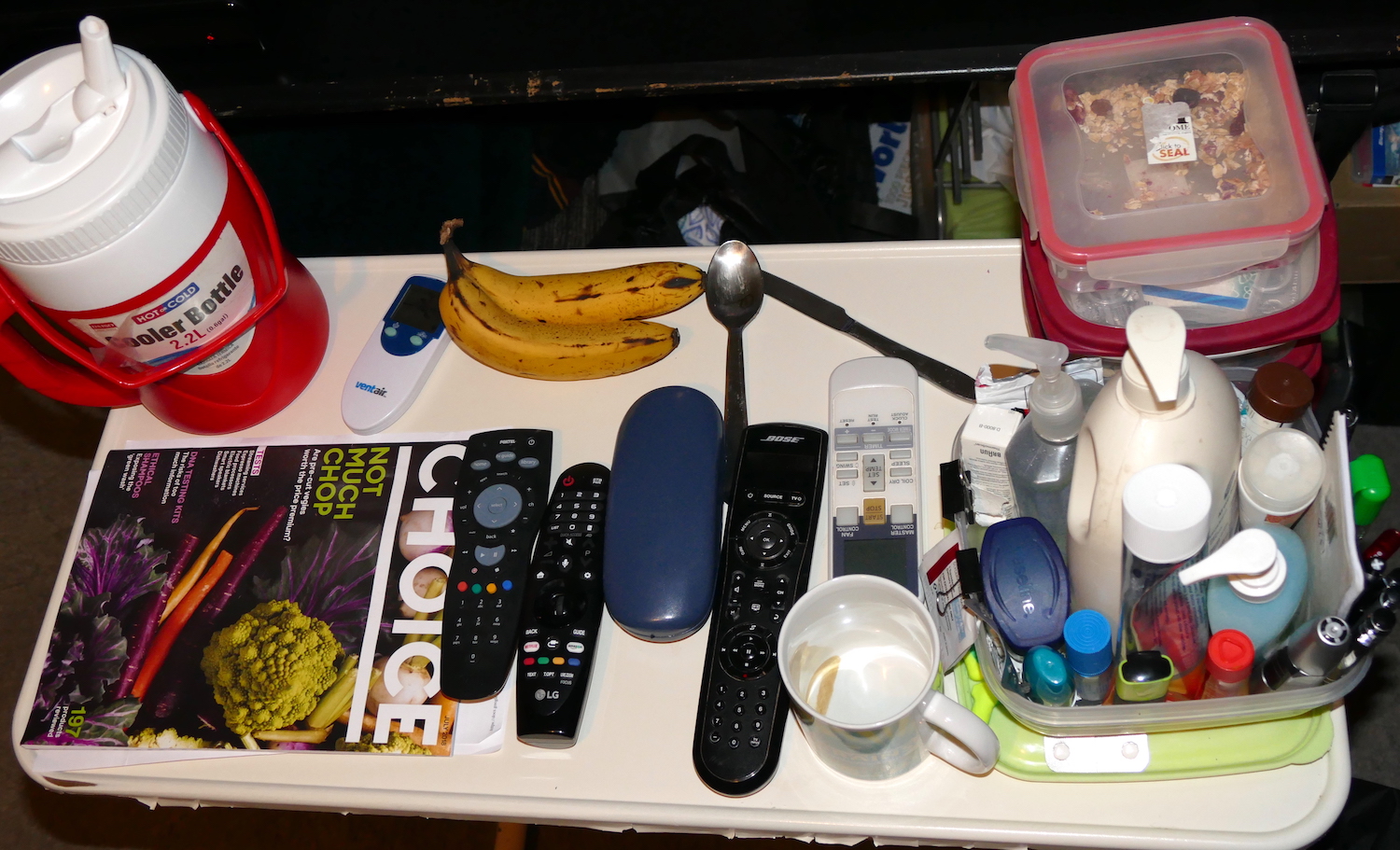 This includes alcohol hand wash; sorbelene;  Nasonex (unlocks my nose for CPAP usage); Voltaren Emulgel (sore muscles); ear plugs (living with teenagers); Benadine (antiseptic cream); ear thermometer (check for infection); Nitro-Dur 5 patch (in case of Autonomic Dysreflexia) cold sore cream; vaseline; and pens and highlighters.
The overbed table to the right contains a few snacks (weetbix and vegemite, and salted peanuts – I find this helps when my medications make me feel anxious); tissues; wet wipes (great for cleaning around my catheter); CPAP mask and strap; Optifast meal (tomorrow's lunch or I just fast and skip a midday meal);coffee (tomorrow's morning drink); compression sleeve (for Golfer's elbow – to wear overnight); arthritis compression gloves (keeps hands warm); LiquiCell Nasal CPAP cushions (protects my nose when wearing CPAP mask); and a medical alarm (I wear when transferring to/from bed in case I fall).
There is a medical box (band-aids; bandages; throat lozenges; various creams; scissors; Gastro-Stop – to stop my biggest problem – gastro or food poisoning; Nausetil – if I feel nauseous), and a large container (various over the counter meds; replacement leg bags; spare CPAP masks; Cotton balls and tips; a TENS machine – to combat elbow pain).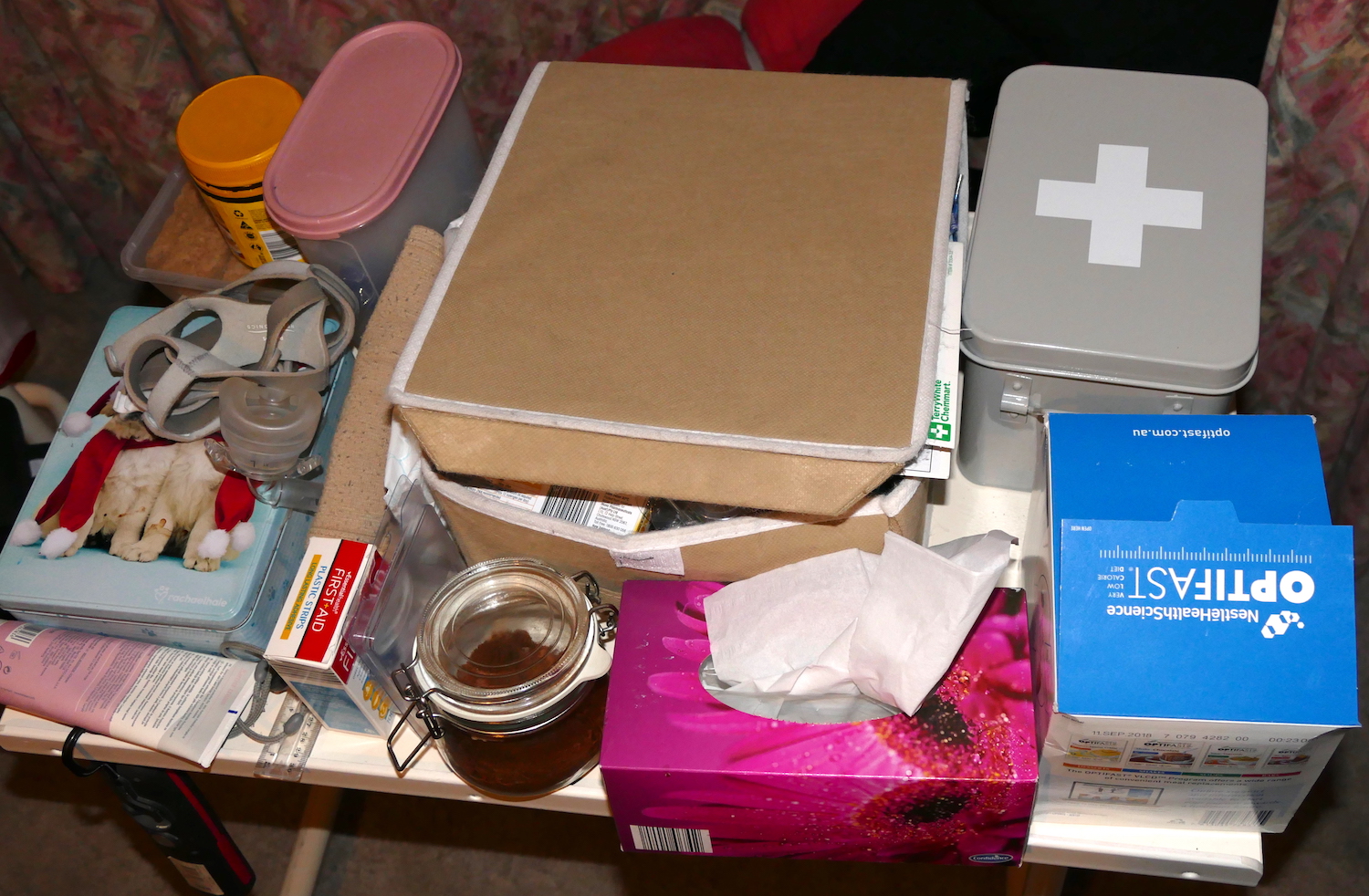 Paraplegia Sleeping Tips #5 – PRESCRIPTION MEDICATIONS.
As the medications include pain relief, they are securely locked away and provided to me at night time by my carers (for that night and the next morning). I keep 20mg of immediate pain relief only within reach, just in case.
Paraplegia Sleeping Tips #6 – BOOKCASE (RHS).
I can reach half of the content on each bookcase, and this includes my MacBook Pro; iPad; PC keyboard and mouse; books; fire extinguisher; extra wet wipes and alcohol (I seldom have a drink while in bed unless my pain levels are high). The other items include spare boxes of gloves; fish oil capsules and incontinence products.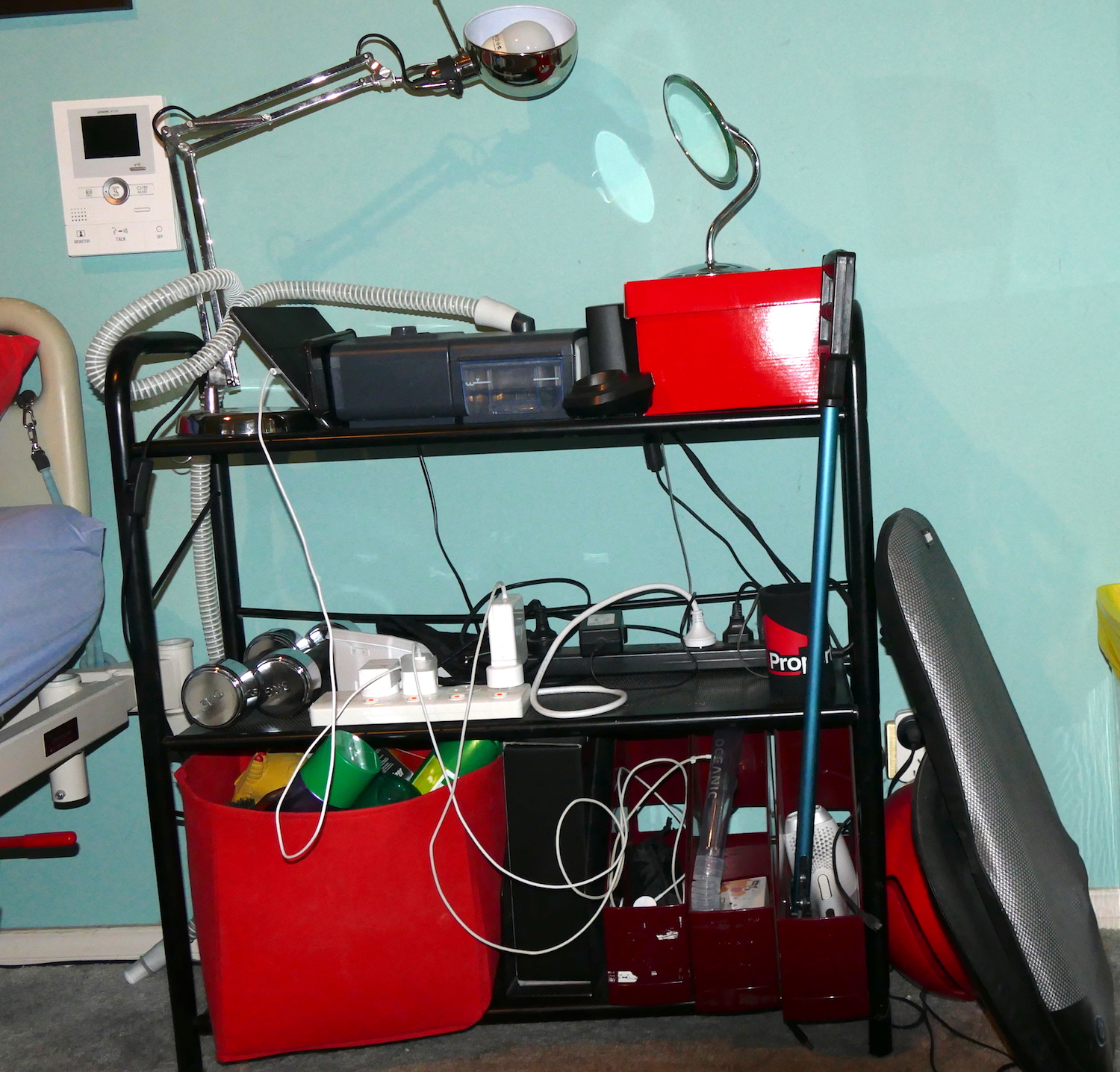 Paraplegia Sleeping Tips #7 – BOOKCASE (LHS).
A wall mounted intercom allows me to answer the front door and to talk to other people in the house (the other intercom is located in the kitchen). The bookshelf contains a reading lamp – which turns around; Blood pressure machine; CPAP machine; two mirrors (for checking my skin integrity); barbells (to reduce elbow pain); charging station; and containers (insect and Glen20 sprays; batteries; tissues and other items).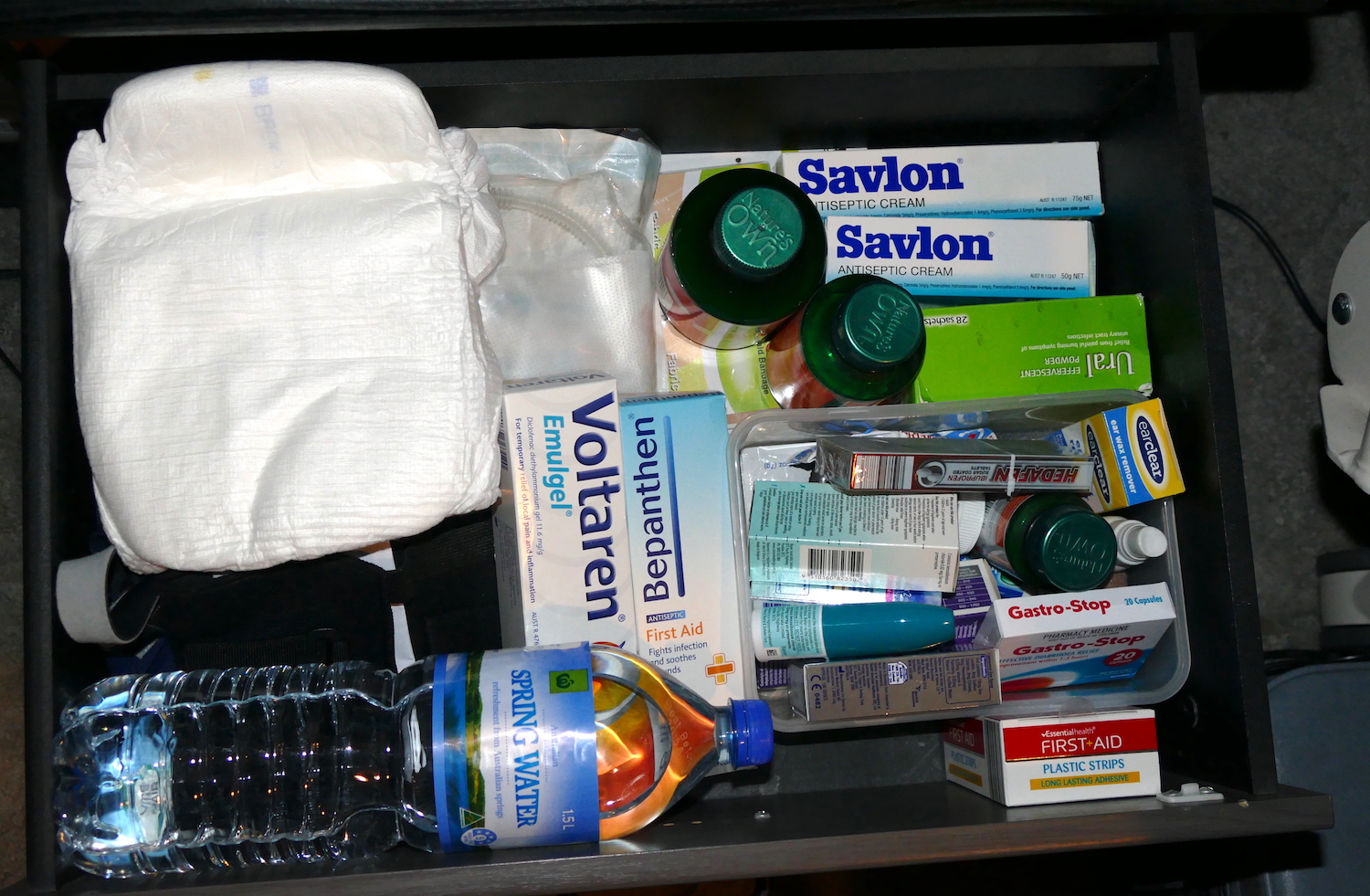 Paraplegia Sleeping Tips #8 – DRAWERS.
The top drawer contains spare items, so I don't run out of them. When items sitting on my overbed tables are exhausted, I use the spares and write them on the shopping list. The bottle of water and the pad relate to bowel movements, and I cover this below.
The bottom drawer contains items I need to combat a bowel movement. There are many aspects of having a disability I dislike, however, I hate involuntary bowel movements. They occur once or twice a year, and usually, they relate to contracting gastroenteritis or a case of food poisoning. I have no way of knowing if I need to go to the toilet. Besides, I cannot run there in time. These items help me clean up the movement (water; tissues; linen and bags), treat my skin (sorbelene and a specialised spray), and spare underwear. I clean up as much as I can, while I wait for a carer to arrive.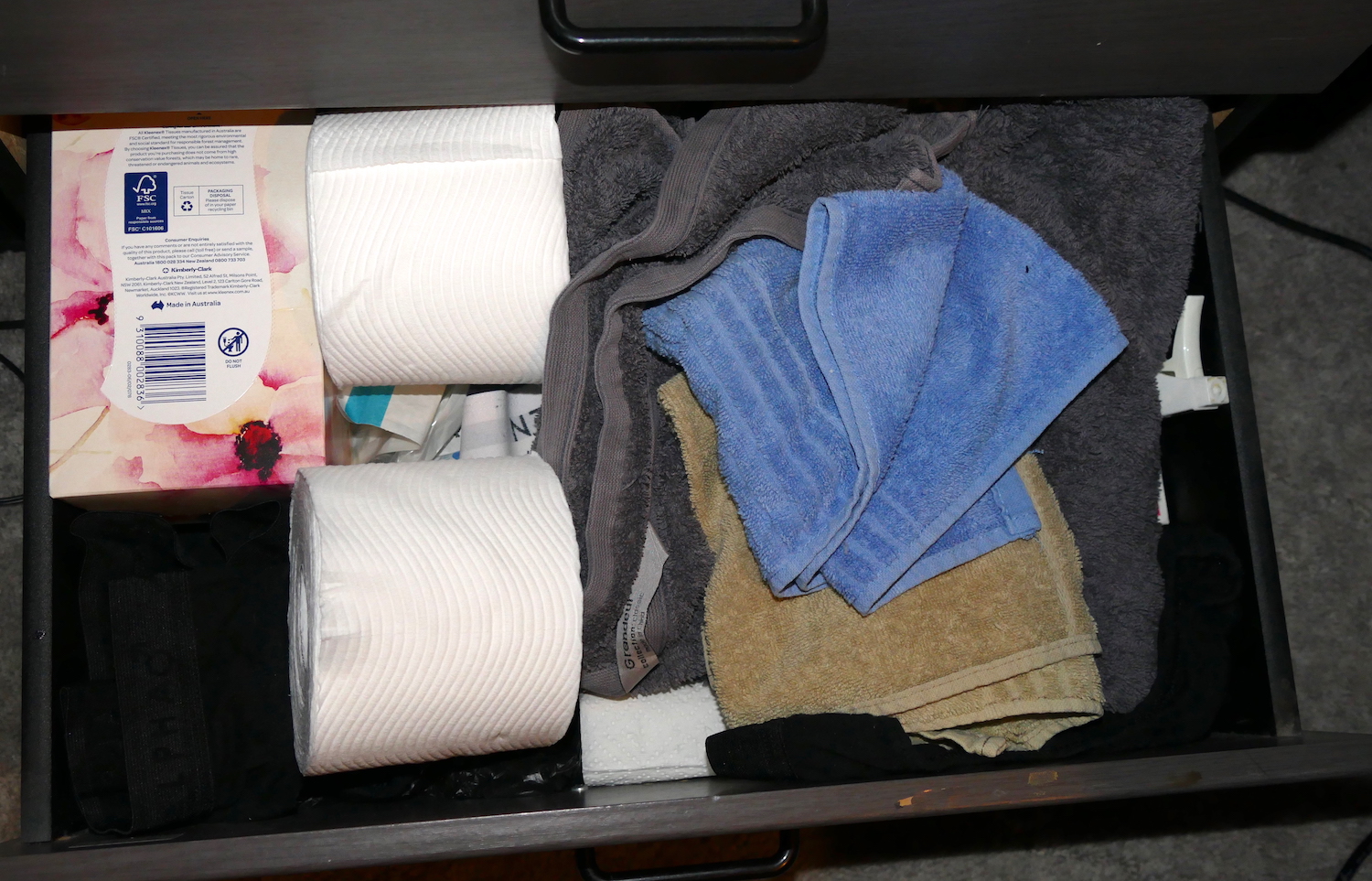 Paraplegia Sleeping Tips #9 – Esky.
It contains boiling water (for tomorrow morning coffee and to mix with muesli/berries), muesli (with sultanas), empty shaker container (for the Optifast meal), snacks (jatz crackers and cheese)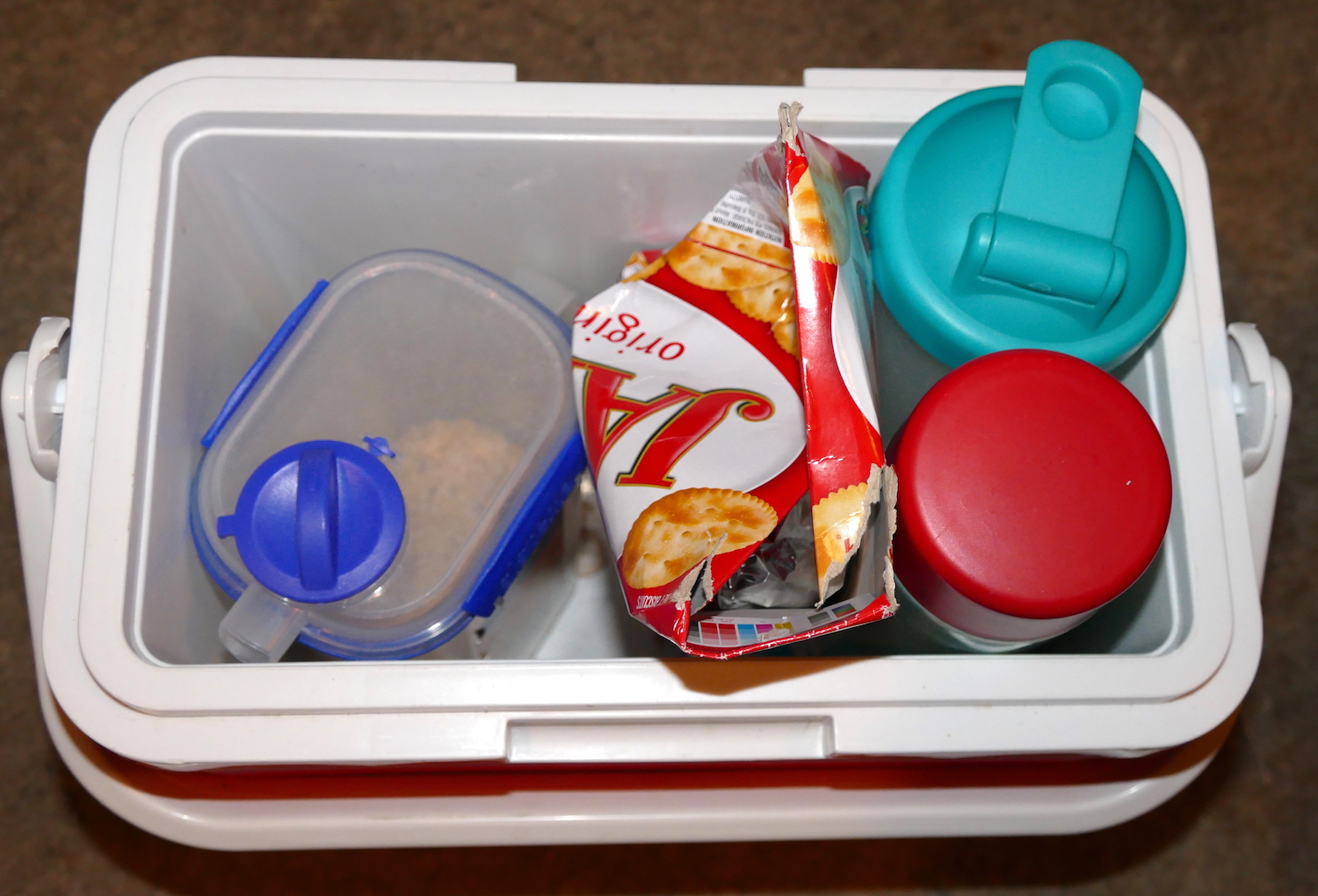 That completes most of the preparation for the night. Part 2 continues with the preparation, describes how I get into bed, and the activities I do during the evening.