Prospect Council Footpaths Resolution PROJECT
Prospect Council Footpaths Resolution PROJECT
Introduction to Prospect Council Footpaths
Prospect Council footpaths are essential to my life, as I moved into the area in October 2019. As I use a wheelchair, the footpaths need to be suitable for use. Unfortunately, I am yet to find a single street in the whole Prospect Council area that is suitable. What is my definition of 'suitable'?
A 'suitable' footpath allows mobility devices to travel at the legal speed of 10 kph in a safe and smooth manner.
You don't fall out and the experience doesn't make you feel that you may fall out
The pain in your body doesn't increase
Your mobility device isn't shaken around, as this can cause damage
Minor bumps are ok. The following are not acceptable…
large tree roots
pavers out of place
concrete paver block that has moved up or down, and result in a sudden drop or a raise
steep incline to the road
multiple sources of material used in a small area
and others
Bad Prospect Council Footpaths no more
Fortunately, Prospect Council encourages residents to report problems with footpaths. On their website about footpaths, they mention the process…
Report the problem (either a footpath tripping request, footpath maintenance or footpath needs to be blown)
An inspection will occur once the report has been received
The work is prioritised according to the level of risk (based on severity, frequency use, proximity to facilities)
Hazardous issues more quickly
Other issues potentially attended to during their bi-annual maintenance visits
Once received an inspection will be undertaken and any maintenance required will be prioritised according to the level of risk present. The evaluation or risk management process for footpaths takes into account the severity of damage/displacement, frequency of use and proximity to facilities such as aged care facilities or schools. Hazardous issues are then addressed more quickly than those that can potentially be attended to during our bi-annual scheduled precinct maintenance visits.
I've only reported hazardous issues and the assumption can be made that the issues will be addressed more quickly than other requests.
I'm not the only one having issues with prospect council footpaths
Mayor David O'Loughlin holds a Mayor's Disability Consultative Forum every two years. The Mayor and the Infrastructure manager attended and listened to PWD (people with disabilities) about accessibility in Prospect council area.
There were around 3 people using mobility devices and they shared issues experienced with footpaths. I am sure there are many other people using wheelchairs, scooters or other mobility devices that have similar problems. The PCFR project began.
Prospect Council Footpath Resolution project
The goals of the project are
Determine a better name!
Help the Prospect Council identify every footpath in the Prospect Council area that is hazardous for mobility device users
Encourage the Prospect Council to resolve the hazardous footpath issues in a timely manner
The goals will be achieved by
Developing a plan, a process and a website
Advertising the project – this website, as well as other media, will be utilised
Recruiting people – to help identify the footpath problems. Ideally, they use a mobility device as they have first hard experience in negotiating footpaths
Allocating footpaths to the team members
Reporting the problem to the council
Adding the problem to our database – to keep track of the issues
Following up and encouraging Prospect council to resolve the footpath issues
The database of known issues is here.
Please email me if you would like to join the project, and help our council identity the footpath issues. And hopefully a quick resolution.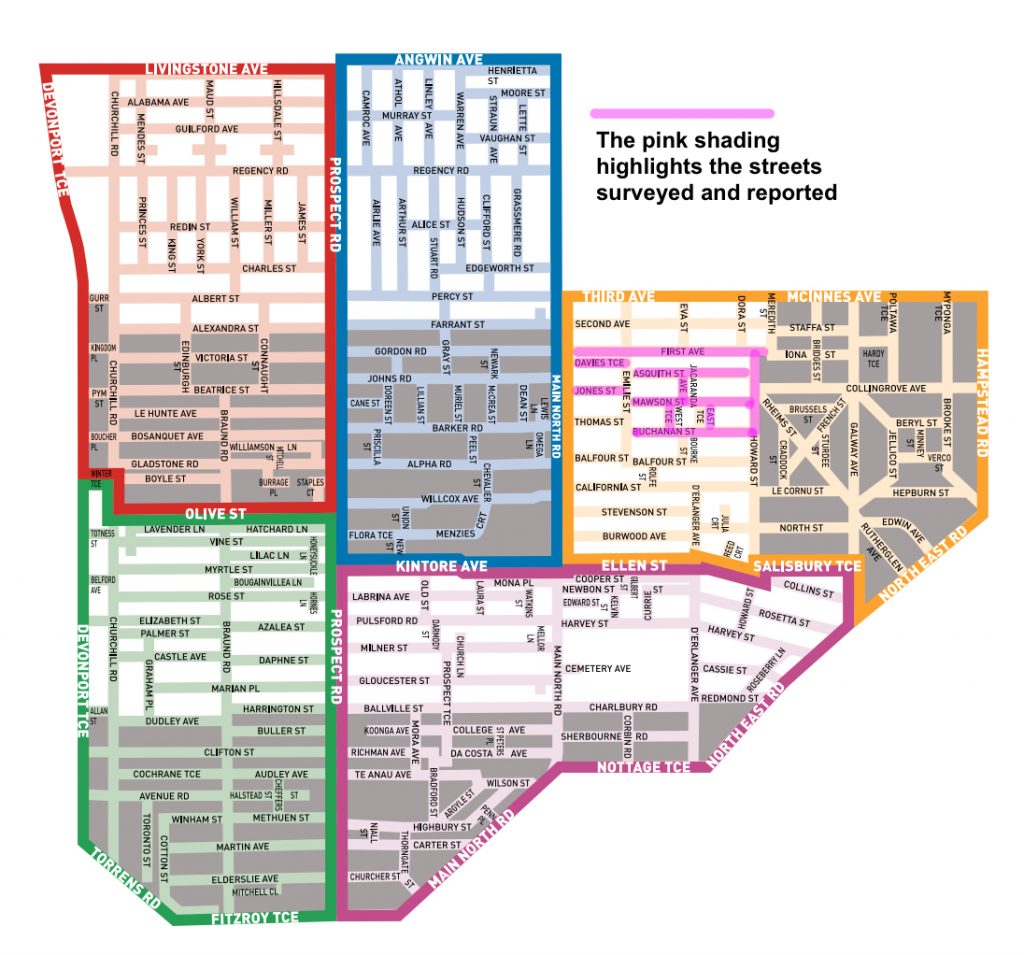 Please follow and like us: